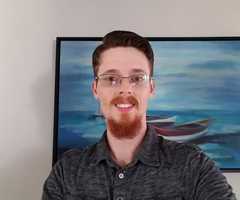 (John) Steven Neiland is currently a Senior Web Developer with SiteVision, Inc. a web development and hosting company located in Roanoke Virginia.
Originally from Cork Ireland, Steven emigrated to Florida in November 2009 where he currently resides.
A self confessed computer nerd, Steven spends most of his spare time researching new technologies and writing on his blog neiland.net. Occasionally he also likes to get his hands dirty either rebuilding a car engine or upgrading a computer.
When he is not working with computers Steven spends his leisure time either reading or sailing in and aroung tampa bay.
If you are interested in hiring him, his monster profile can be found here.
Career Previous
Steven started his career as a freelance web developer while still in college and spent his first year out of college designing websites for small business's and clubs.
Loco Software
In January 2007 Steven joined LocoSoftware a small design firm located in Cobh, County Cork, Ireland. At the time Loco worked primarily as the software division for their parent company OCO Global based in Belfast Northern Ireland.
LocoMonitor / FDiMarkets
Initially tasked with maintaining existing PHP powered CRMs, Steven trained in Coldfusion and the Fusebox framework going on to develop several key modules in one of the companies main products LocoMonitor.
LocoMonitor and its sister product LocoAssess would eventually be bought by the Financial Times to be rebranded FDiMarkets and FDiBenchmark. During this time Steven switched form MySQL development to using SQL Server 2000 & 2005 databases becoming proficient in advanced query design, database design, performance tuning and stored procedures.
AMS
After the completion of LocoMonitor Steven went on to develop an internal application know as the Account Management System (AMS) which tied together the user licencing features of the FDiMarkets and FDiBenchmark products including a support ticketing system and customer relationship management tools.
HAL
The HAL system was designed as a replacement for numerous stand alone php powered crms which the client company maintained for different consulting projects. By migrating and combining 30+ MySQL databases into a single SQL Server databases the company was able to track and view all captured data from one system.
The most important feature of HAL was its ability to switch between a global view of all recorded company records and a project specific subset of this data, complete with project specific notes, datapoints and attachments.
The Banker Database
The Banker Database project for the Financial Times of London was an online data collection and reporting tool for generating performance ratings on world banks.
Involving working with FT staff in multiple locations, the project involved extracting and cleaning existing data from a legacy application and creating a replacement database driven web application with a separate web portal for subscribers.
A key component of the application was its ranking generator which can take all bank metrics across any range of time/location, filter those banks by multiple datapoints and generate a ranking based on any chosen financial datapoint complete with year on year ranking and percentage change values. In addition the ability to create secondary rankings value within the primary rankings. This ranking generator would be used to create the published data for the Top 1000 World Banks magazine.
Sterling Payment Technologies
Steven joined Sterling in early 2010, where he currently works as the lead web developer over a small team which maintains the companies main website, product and division websites as well as the main client portal.
Website
Initially tasked with performing an SEO analysis of the existing site design and structure, Steven's analysis was used to validate the need for a complete site redesign. The new site has significantly improved search engine rankings and is now a vital component of the companies marketing strategy and has shown a considerable increase in web lead generation.
News & Social Marketing
In addition to the site redesign, Steven built a news content management system which was integrated into the marketing toolkit. In addition to allowing content publishers to generate news articles directly, the system also pulls in news articles from third party content providers. Finally the cms incorporates social publishing tools to link published articles with various social media platforms.
SNAP
SNAP is the company portal through which clients access their account details and reporting tools. After a thorough review of the codebase Steven made several key recommendations and alterations to the system to improve performance and security while improving the user experience.
Automation
Aside from web development Steven's current projects include automation of the testing and deployment process's within the web department as well as standardizing the requirements gathering and documentation procedures for new projects.
Education
Steven attended the Cork Institute of Technology in Cork, Ireland between 1999 and 2006 where he earned a Degree in Electronics Engineering and an Honours Degree in Software Development.
During his second year at CIT he developed an interest in web design and joined a student society called "Websoc" which he later went on to run. During his time in Websoc he learned how to develop PHP powered websites with MySQL database backends and how to maintain the societies Slackware Linux web server.
His first web project was a complete redesign and development of the societies website going from a static html table and frame implementation to a CSS & database driven implementation with integrated user management and member forums.
For his my final year project he developed a php powered web content management system (CMS) incorporating a WYSIWYG content editor, dynamic navigation generation and file management.